Victiv Photography Gear
Victiv 68 inch/1.73m Phone Tripod Stand, Selfie Stick Tripod with Remote & Smatrphone Tripod, UPGRADE Foldable Camera Tripod for iphone/Samsung/Huawei/Mobile Phone
Regular price
$25.99 USD
Sale price
$21.99 USD
Unit price
per
Sale
Sold out
✌【2 in 1 selfie tripod】The tripod stand can be switched to a selfie stick by removing the base frame. 167cm/65in long selfie stick with smooth handle is more comfortable with a wider field of view.Used very frequently for Group Photos ,YouTube videos, podcasts, Facebook Live, FaceTime, Instagram, live streaming
🗼【Super Tall and compact tripod】Maximum height 68in/172cm,handy for someone tall. iphone tripod only weight 1.1lb, collapsed to 17.7inch. Amazing Leg base still takes up minimal floor space ,regardless of how high tripod is extened. Perfect for bedroom use and adventure travel
🏋️‍♂️【Stable aluminum-alloy tripod】made of highly-quality aluminum-alloy material.Sturdy,stable and able to withstand use in rugged conditions.The attached phone holder has an anti-skid pad to prevent the phone from slipping off.Great for long slow motion video captures
🌠【Fast connecting controller】 The small remote control works perfectly for the range up to 30 feet(10 meters). Easy to set up & use in 3 seconds. The remote control allows you to take a selfie from a distance for hands free. Suitable for most iOS / Android smartphones
⚽【Flexible head】works great with an iPhone to record videos horizontally vertically and forward tilt ,making this ideal for filming yoga class content and recording uni lectures.1 / 4 screw interface compatible mobile phone holder, small camera, ring light
Share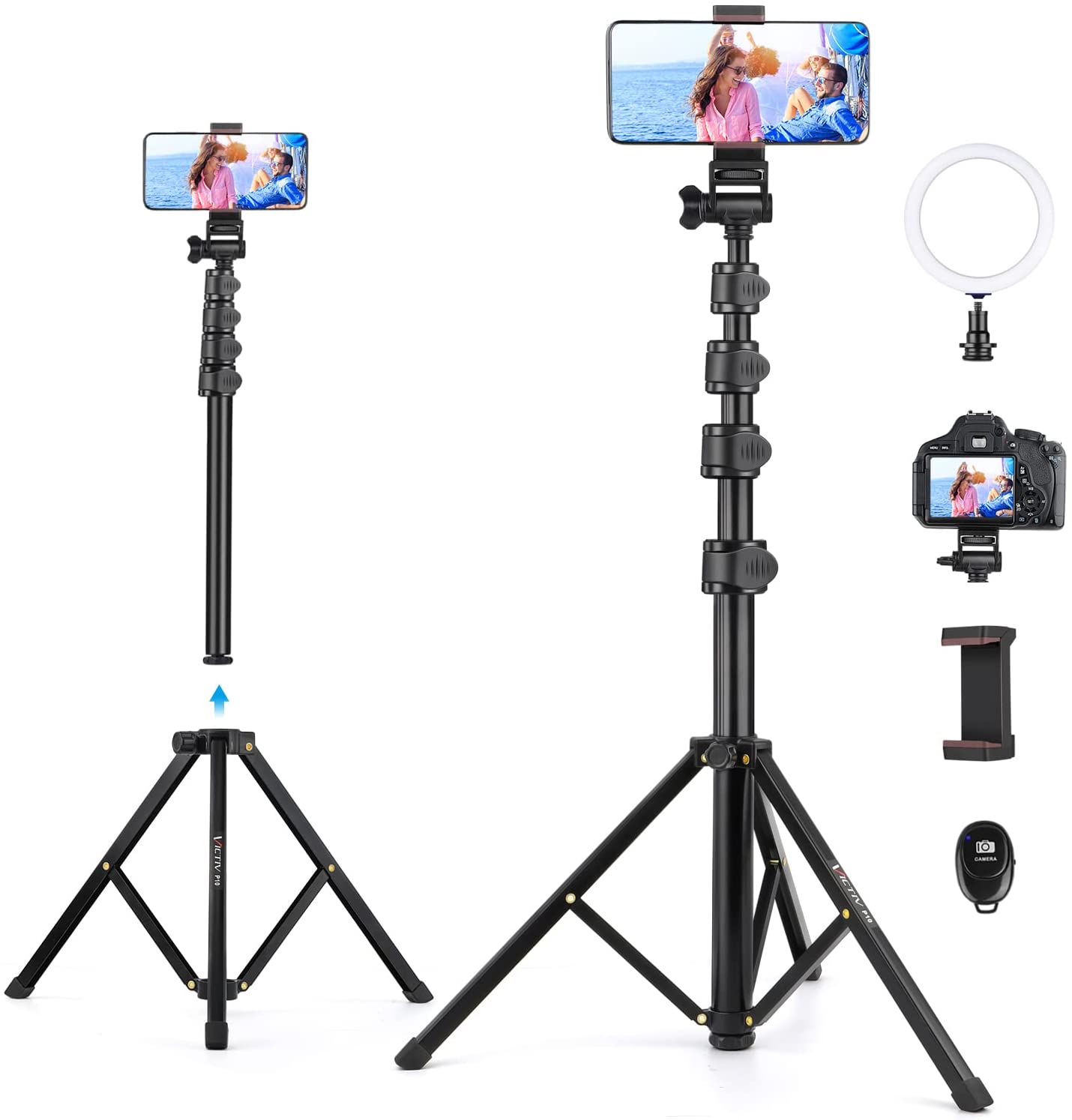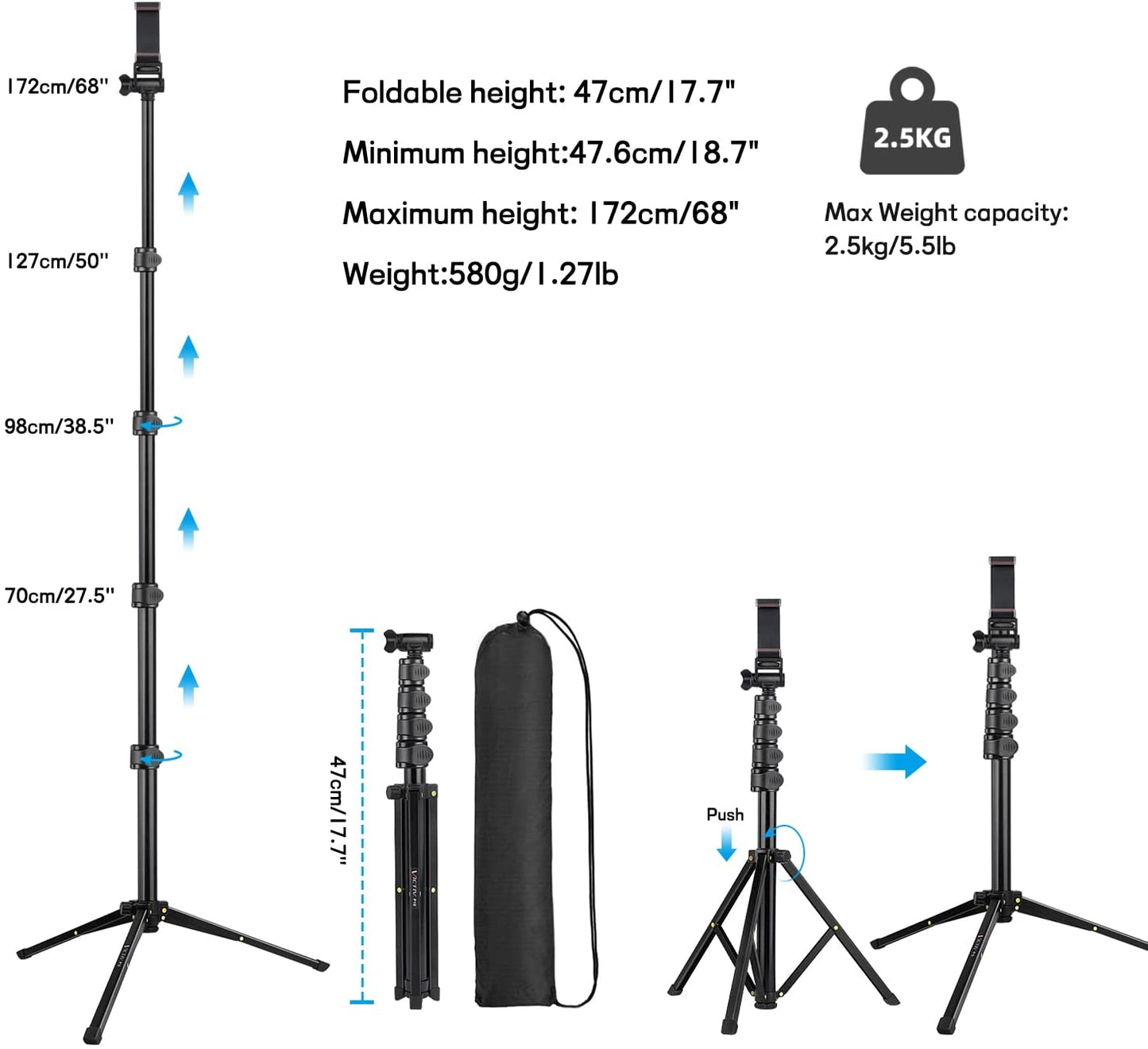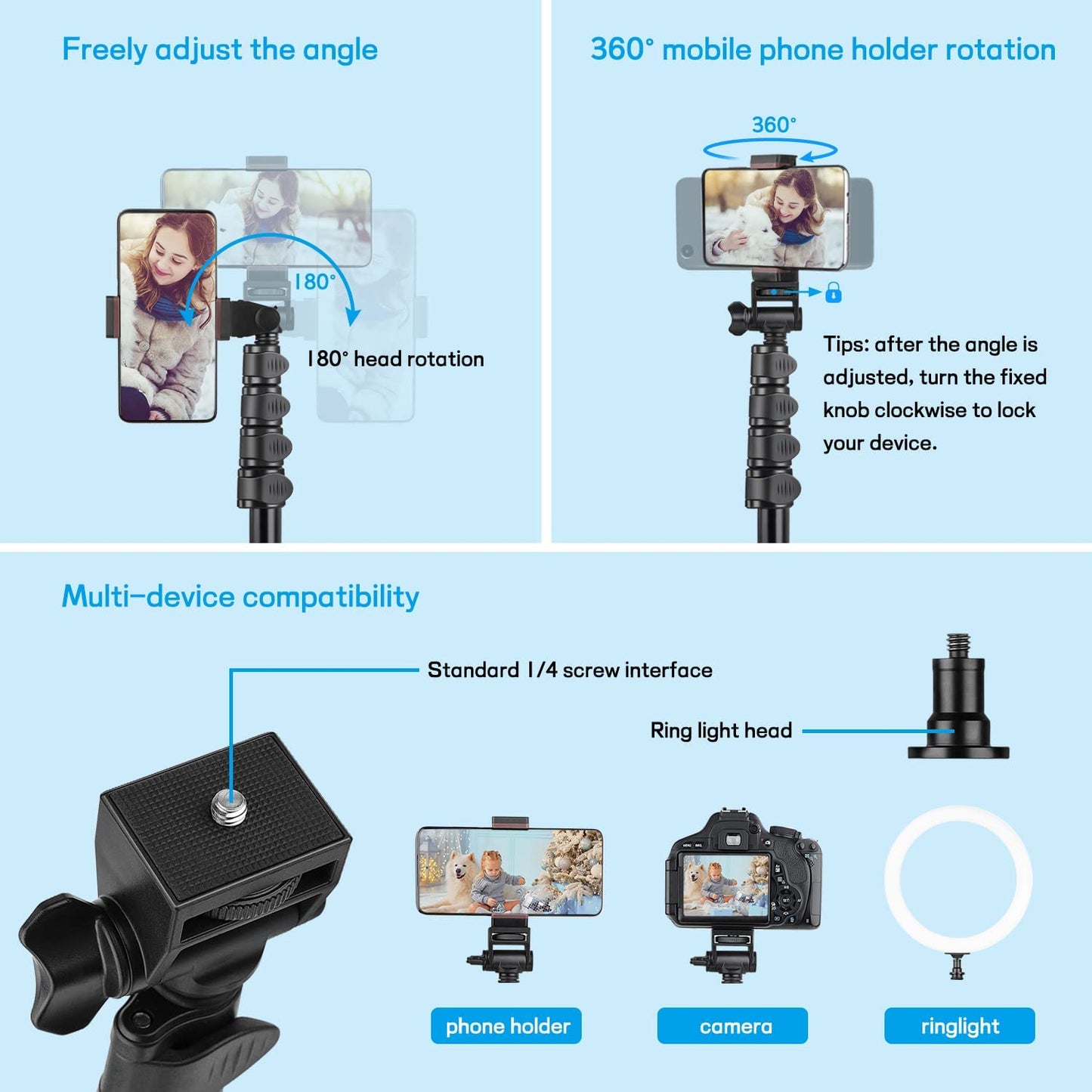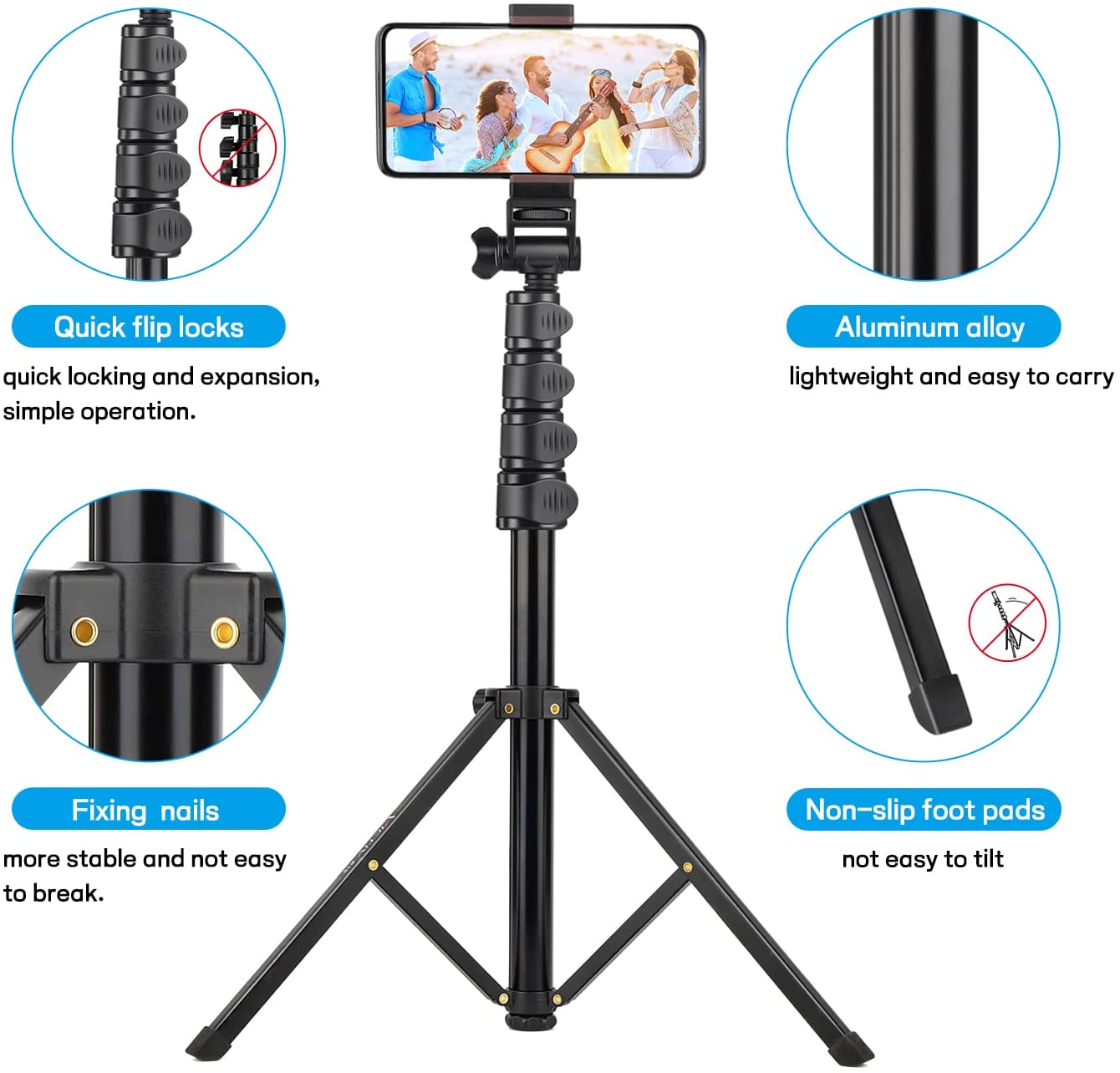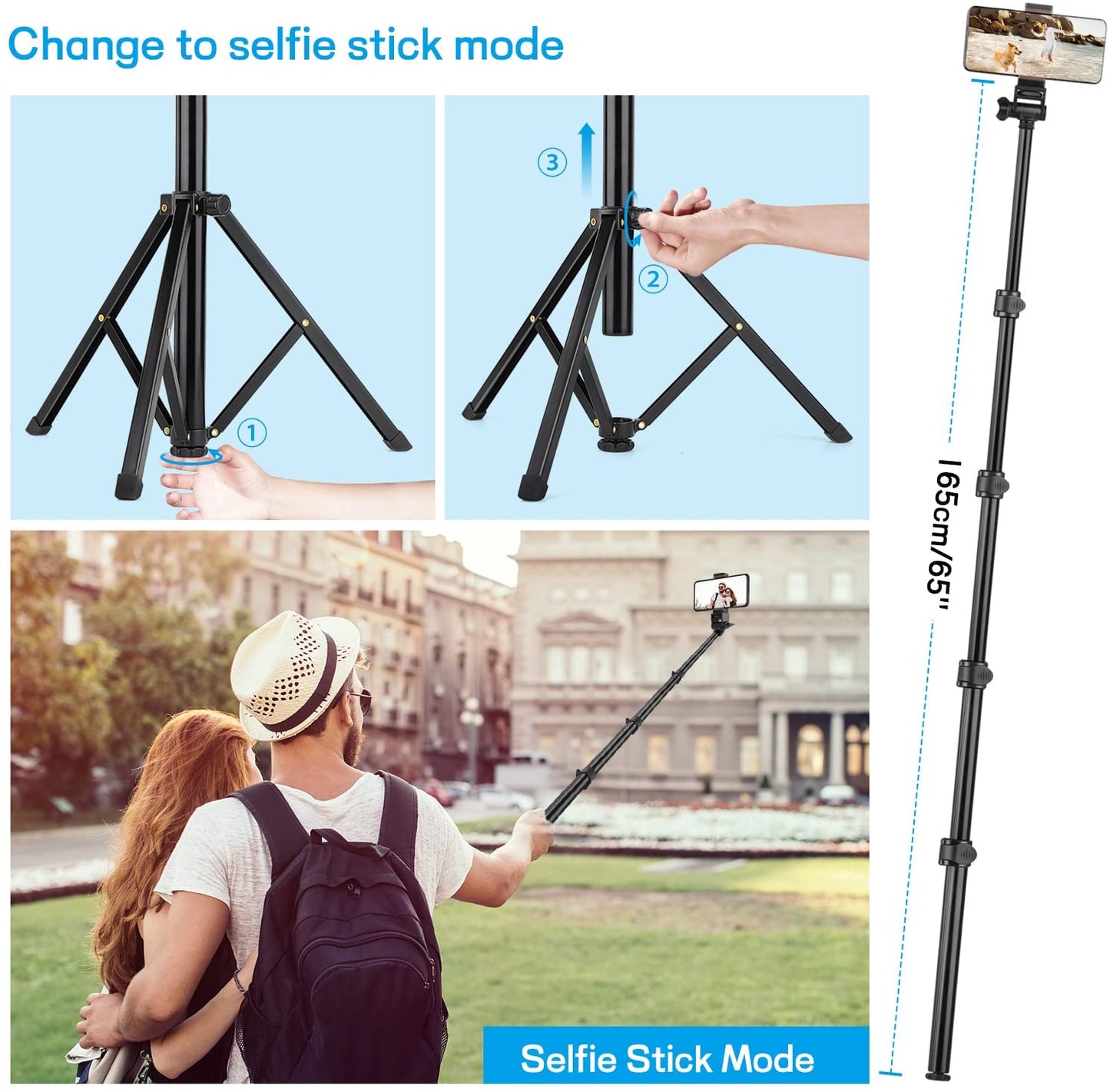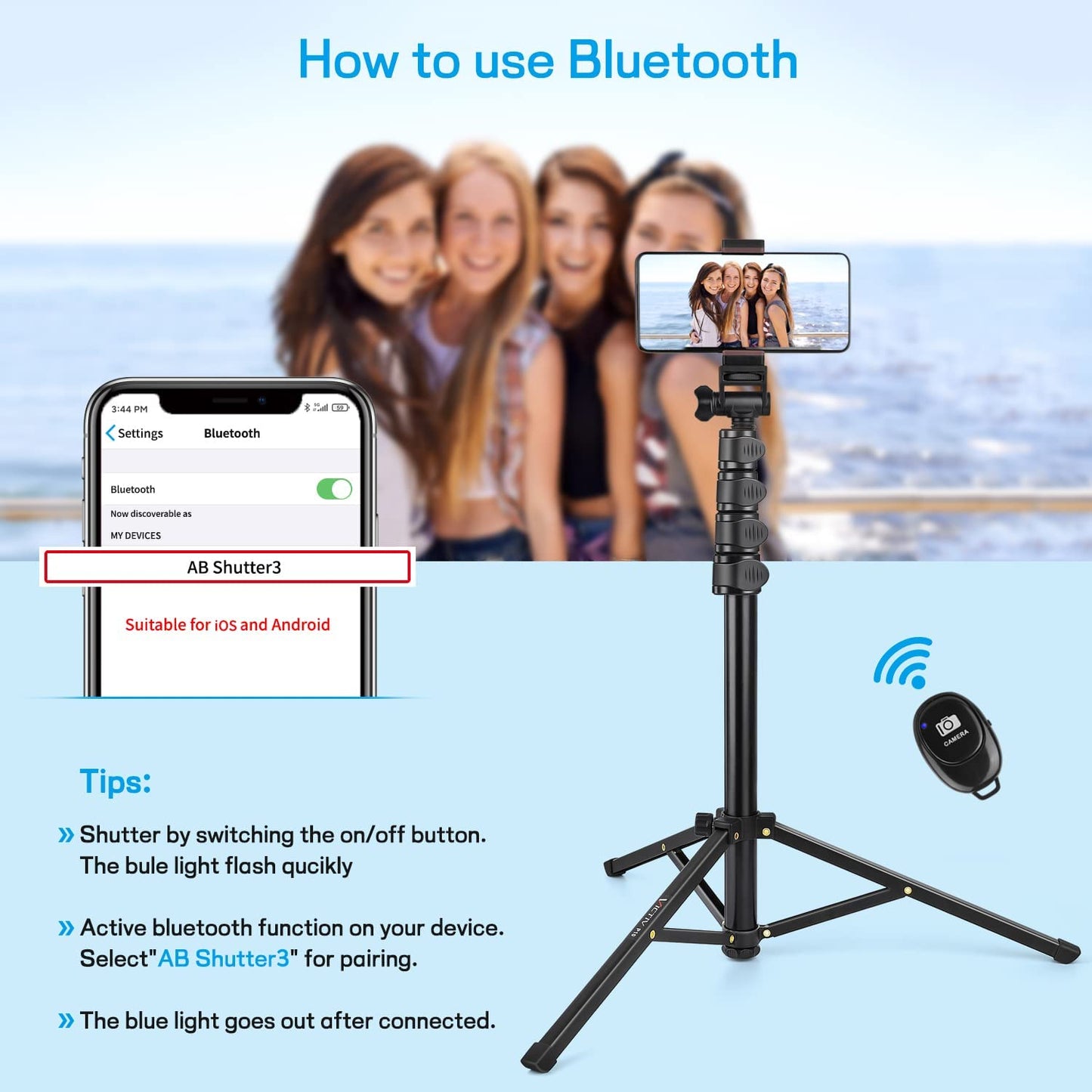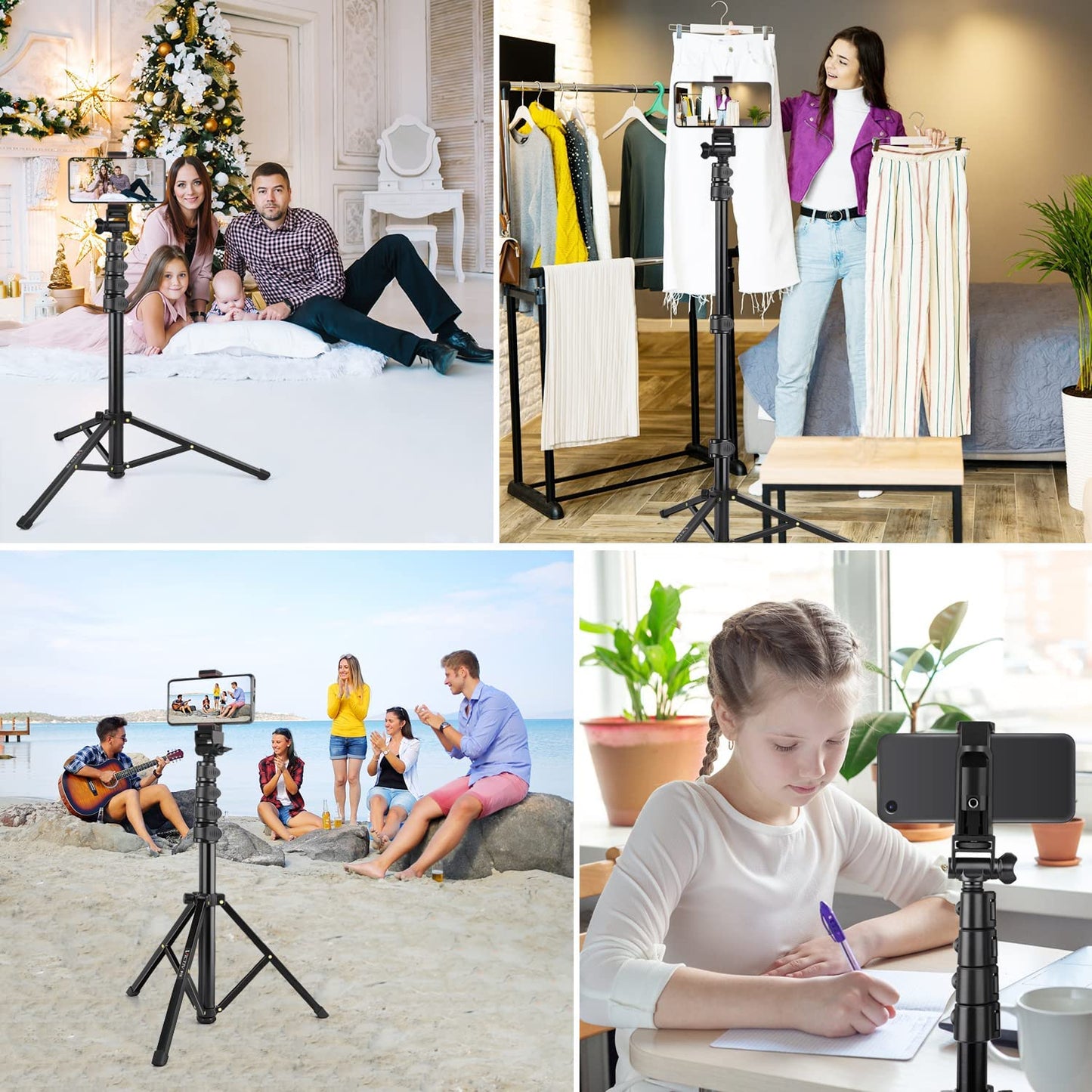 Sturdy light weight tripod
I had another small light weight tripod that I lost. This replacement is so much better! It extends higher and is more sturdy than my previous one while still remaining light weight and compact. The part that holds the phone needs to be removed so it can fit into the bag provided, but once that is done the whole thing fits into my backpack.
Amazing Tripod
The tripod is very sturdy it's not cheap or flimsy. It came with a phone holder as well as a camera holder and a remote control which is so easy to use. My 12 year old son has been borrowing it to record videos for his YouTube channel, he loves it because it keeps the camera very steady and he can adjust the height he wants it at. Highly recommended ♥️
Excellent!!! Excelente!!! Perfect for my trips..
had other tripods with a height of 68, but they were not stable and I had to constantly adjust it.
I travel a lot for tourism, and to capture good photos I needed a tripod: 1. With a height of 68 or more, 2. Good support to adjust the necessary measurement, 3. With rotation on the base of the phone to capture vertical and horizontal photos , and 4. That fits in the handbag that all airlines allow on the plane. This tripod has all 4, thanks!!!
I will recommend them to family and friends… I loved it!
Tenía otros trípodes con una altura de 68, pero no eran estables y tenía que ajustarlos cada vez.
Viajo mucho por turismo, y para tomar buenas fotos necesitaba un trípode: 1. Con una altura de 68 o más, 2. Buen soporte para ajustar la medida necesaria, 3. Con rotación en la base del teléfono para tomar vertical y fotos horizontales, y 4. Lo que cabe en el bolso de mano que todas las aerolíneas permiten en el avión. Este trípode tiene los 4, gracias!!!
Los recomendaré a familiares y amigos… ¡Me encantó!